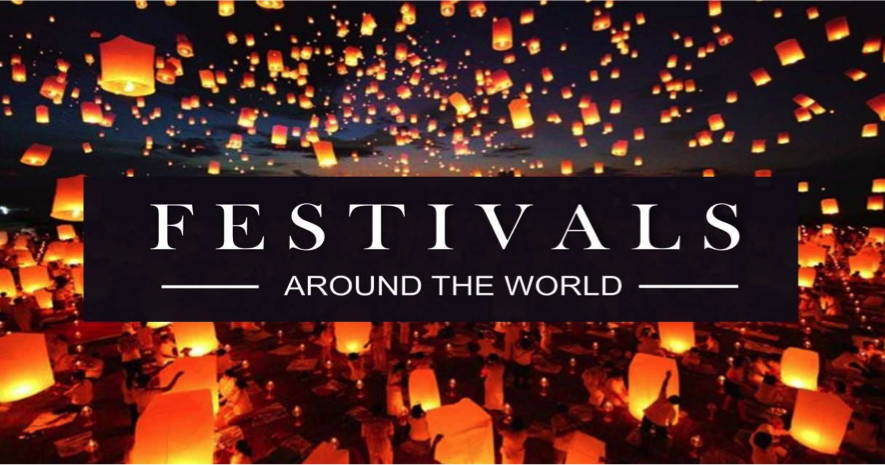 21 Amazing Festivals Around The World
Some countries around the world once a year they organize unusual and unforgettable festivals. We all know the Brazilian Carnival, but there are many festivals that will surely delight you, and festivals that are worth visiting at least once in life. If you like adventure and a good time, see our list of amazing carnivals from around the world and choose your next destination.
1. Holi — Celebrated by Hindus Around the World  (March 27, 2014)
Holi, also known as the Festival of Colors, is a celebration in honor of colors. Generously spraying yourself and others with powder color, people celebrate this holiday as a welcome spring, and to show gratitude for a good harvest. This festival is fun and free, just do not forget to bring your color.
2. Snow & Ice Festival – Harbin, China (January 5 – February 5)
Festival in Harbin is a real winter fairy tale! Beautiful ice sculptures made of giant blocks of ice reaches height of up to 20 feet (6 m). Despite the low temperatures of -15 degrees F (-26C), the biggest festival of snow and ice last year was visited by over 13 million tourists from all over the world, and some couples have also decided to get married right here.
3. Tomorrowland – Boom, Belgium (June 27 – 29,  2014)
Tomorrowland was established in 2005 and quickly became one of the world's biggest open-air festivals. It is composed of 10 different stages each with a different kind of electronic music and with a fabulous and breathtaking set designs!
4. Albuquerque International Balloon Festival – Albuquerque (October 5 – 13, 2014)
More than 40 years in the U. S. city of Albuquerque, balloon festival being held which attracts thousands of spectators from around the world. Although the festival lasts only a few days weather conditions in the city are such that they can fly almost every day. The scene reminiscent of the movie Up, except that it is much better because it's real.
5. Mardi Gras – New Orleans (March 4, 2014)
Mardi Gras is a festival under the masks in which you will have fun like there's no tomorrow! If you have extra energy and desire for fun this place is the ideal choice for you!
6. Oktoberfest – Munich, Germany (Last week of September to the first weekend in October)
Although worldwide there are imitations of Oktoberfest, this festival of drinking beer is definitely the largest in the world. In 2013, visitors spent more than a whopping 96 million dollars on beer!
7. Cascamorras – Baza, Spain (September 6)
Every year, hundreds of Spaniards pour themselves with black grease and paint, to revive the memory of the theft of the famous statue «Virgen de la Piedad» from 500 years ago. This is certainly an experience that you never thought you'd experience!
8. Carnaval – Rio de Janeiro, Brazil (February  28 – March 4, 2014)
Brazilian people is known for its cheerful spirit and beauty, so this carnival is like a big party that never ends. With the sounds of samba, colorful costumes, with a beautiful girls, this place in the days of the carnival, becomes a feast for eyes and the ears.
9. La Tomatina – Buñol, Spain (The last Wednesday in August)
No matter how crazy it may sound, this festival is held every year exclusively for fun, not because of any tradition. During the festival, which was held at this place in 1945, the couple of locals have started to shoot each other fruits and vegetables, and since then it has become a tradition.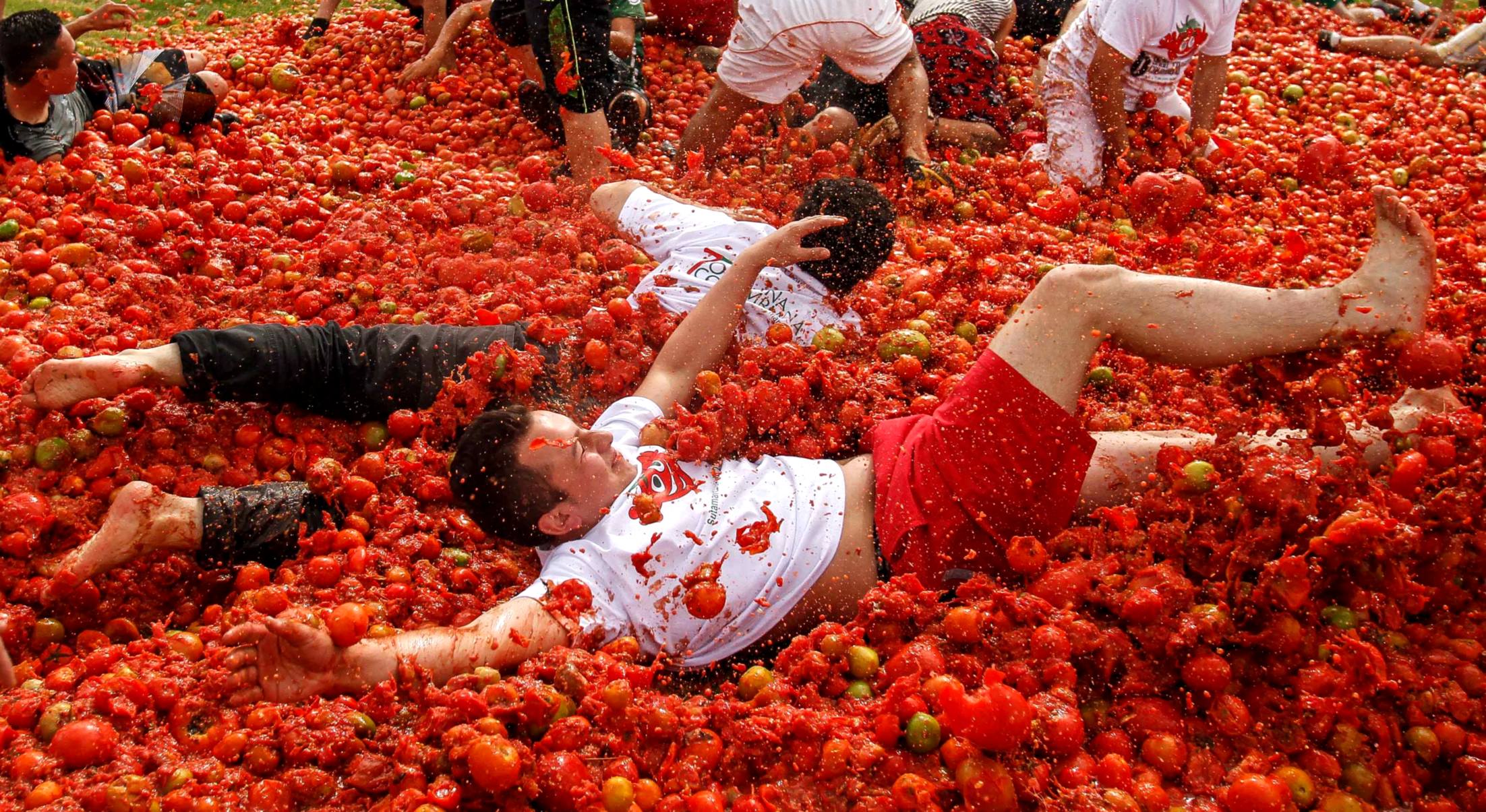 10. Up Helly Aa Fire Festival – Lerwick, Scotland (last Monday in January)
This festival dates back to 1880 and is held every year. Up Helly Aa Fire Festival is the largest fire festival in Europe. The preparations for festival lasts throughout the year. In May starts making a real Viking galley that comes on at the end of the festival. The festival started with a march of 45 squads masked in complete equipment of the Vikings. The atmosphere is amazing and certainly something that must be experienced!
11. Carnevale – Venice, Italy (February 14 – March 4, 2014)
Festival in Venice, is a tradition since the 13th century. People from all over the world come to a costume party. Disguised and mystical participants walk the streets and enjoy the excellent atmosphere of which becomes even better party on the street.
12. Running of the Bulls – Pamplona, Spain (July 6 – 14)
The Spanish tradition of attracting tourists and local spectators for years, and no wonder – the adrenaline on the streets of this city is every July at the highest level possible, regardless of whether you are an observer or participate in the race.
13. Kirpinar Oil Wrestling Tournament — Erdine, Turkey (June 29 – July 5, 2014)
Strong men wrestling while covered in oil. There is literally nothing else to say.
14. Glastonbury – Glastonbury, England (June 25 – 29, 2014)
The first Glastonbury Festival was held in 1970. Since then every year grows, so today it gathers up to 150, 000 people. In addition to the amazing music you'll find at this festival, perhaps the funnest part of the festivals is wading through the mud in your rain boots while camping with all of your friends. Glastonbury is dirty, loud, and wild, aka everything a music festival should be.
15. Burning Man – Black Rock City, Nevada (August 25 – September 1, 2014)
Festival of music, art and more, gathers around 65, 000 people. Dressed in colorful costumes, they gather in a vast area, where they dance until dawn, and where normal social rules cease to apply. The festival is a haven for hippies, artists, musicians and dancers who during the week exploring the limits of human creativity. The festival does not use the money, but the participants exchanged gifts to get to everything they need.
16. Cochella – Indio, California (April 11 – 20, 2014)
This music festival was created in 1999 and visited by more than 100, 000 people. At this festival, besides you can hear the best musicians in the world, can be seen and the most famous Hollywood personalities.
17. Songkran Water Festival – Chiang Mai, Thailand (April 13 – 15, 2014)
Here you will not scare anyone if you throw a balloon full of water on his head, because as you can see in the picture, the Thais are brought even water cannons. Therefore, water gun in the hand and the direction of Thailand.
18. Dia De Los Muertos – Celebrated by Mexican (November 1)
Dia de los Muertos, or «The Day of the Dead» is celebrated all over the world in memory of all the ancestors. The biggest celebrations are in Mexico City and Los Angeles. This colorful parade may be a bit morbid, but it certainly has to be visited.
19. Cooper's Hill Cheese Rolling Festival – Gloucester, England (May 26, 2014)
If you ever thought what it would be to watch hundreds of people running down the hill for pulley of cheese – this is the place for you! This festival is really exists!
20. Lantern Festival – Pingxi, Taiwan (February 23, 2014)
No matter whether you are a romantic person or not, this scene will undoubtedly leave you breathless. Hundreds of lanterns flying in the sky look like magic.
21. EXIT – Novi Sad, Serbia (July 10 – 13, 2014)
EXIT is a summer music festival held annually at the Petrovaradin Fortress in Novi Sad, since 2000, and usually lasts four days. Quickly grew into a large and renowned music festival and is now known worldwide. For that is in part due to the environment in which it is held Exit – picturesque fortress from the 18th century, which is located on a hill overlooking the Danube River. Last year he reached a record attendance of over 200, 000 people!